October. The month of changing weather, leaves falling from trees, snuffly noses and, for some, ink. Lots of ink. From brushes and dip-pens to the humble biro, the number of artists opting to draw with ink this month may largely be thanks to artist Jake Parker, who started the month-long drawing challenge known as Inktober. Anyone can participate, and the rules can boiled down to two simple steps:
1.     Make an ink drawing
2.     Share it! 
There are official daily drawing prompts that participants can use if they'd like to – but more importantly, participants are encouraged to stick to a consistent schedule, whether it's a daily drawing, one every other day or one drawing per week. The spirit of Inktober is to improve inking skills and develop positive drawing habits.
This my third year attempting Inktober (you can see my work here). With every year, the positives have far outweighed any challenges I have experienced. For this blog post, I wanted to share some of the things I have learned along the way.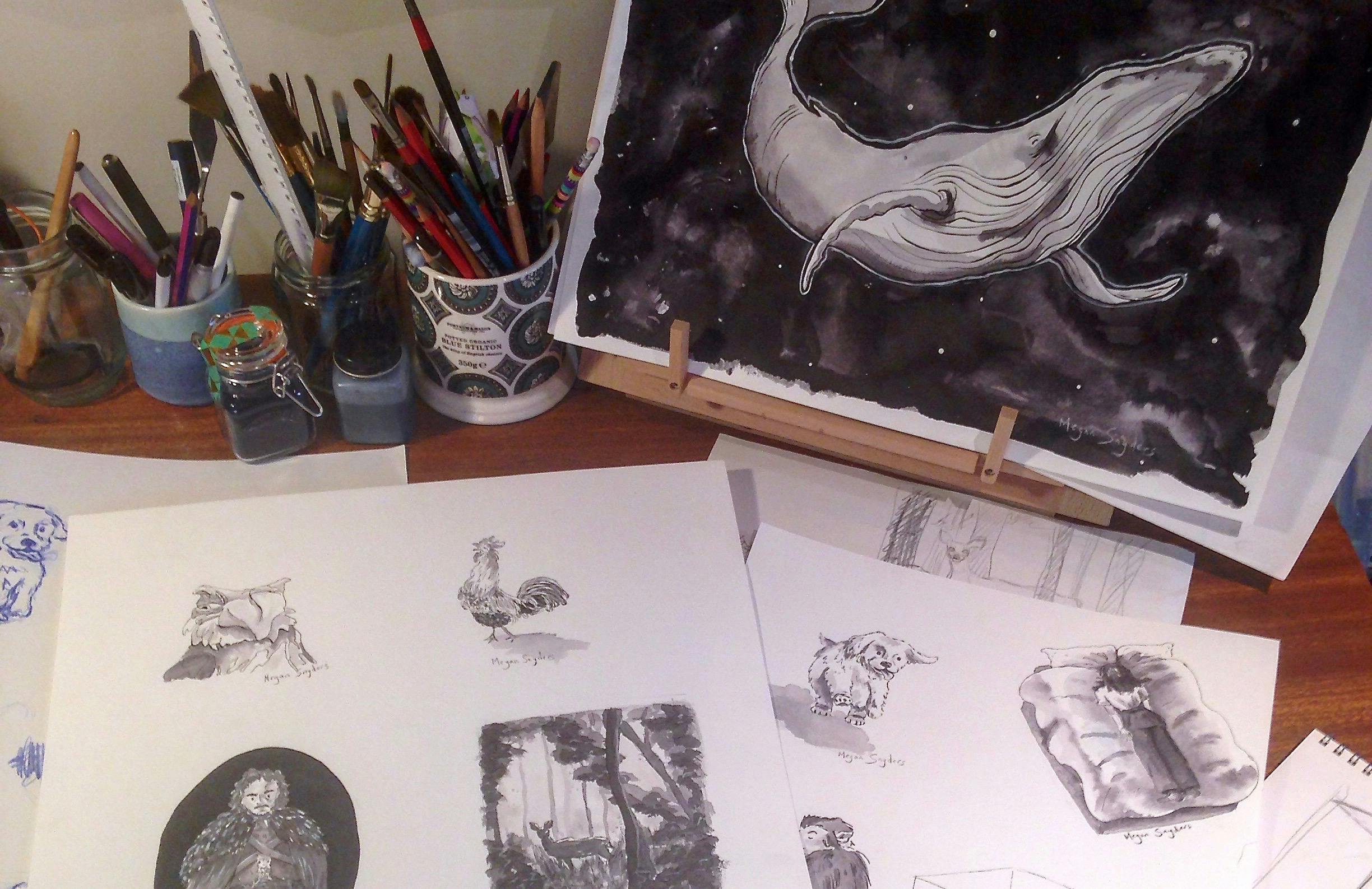 In 2017, I managed 14 days of the challenge. I didn't have much of a plan when I started, I just wanted to make pictures. I drew on watercolour paper using a mixture of pens, black drawing ink and sparing amounts of white gouache. I absolutely loved having to discipline myself to practice every day and I found using the prompts really helpful as a starting point for each drawing. I didn't set time limits for myself and drew on scraps of paper to get the idea out, then redrew the same image onto the watercolour paper, using layers of Ink to create an image. It was great! But, in all honestly, it was slow progress.
I had aimed to do one drawing a day, but by the first week all the novelty and excitement of a new challenge has been replaced by something quieter, something that was definitely a little more uphill. Aside from the clear pitfalls from not setting a time limit for each drawing, my first Inktober attempt also represented the most work I'd ever shared online in such a short space of time. I was nervous. I would have to keep reassuring myself that the challenge itself demanded that I share my work (it's rule two, after all). With every Instagram post, I became less and less self-conscious, replaced instead with curiosity to see what everyone else was drawing for their prompt that day.
Better time management and more streamlined planning ahead, I decided, was the cure for next time.
So about a week before Inktober officially started the following year, I sat at my desk and laid out my sketchbook and the official list of drawing prompts in front of me. In the space of an hour, I littered an A3 page with tiny doodles in preparation for every Inktober prompt. My plan was to refer to each doodle as a visual starting point for every 'real' Inktober drawing I made over the month.
I took a different approach to the challenge this time round - firstly, I treated each Inktober drawing as a warm-up exercise to complete before embarking on to other drawing projects. Secondly, I incorporated colour. Classic black ink is the recommended medium to help keep your Inktober simple, but the idea of using selective colour made me excited for each drawing. Limitation, like problem-solving, can really help to unlock a part of the creative process - but allowing myself to break free from the single colour palette felt liberating and gave me a newfound energy to create work. Over the month, I completed 9 'finished' drawings. I noticed a recurring issue: no matter how hard I tried, I couldn't seem to capture the energy of those first doodles.
It was only through actually doing the work that I came to realise that my most rewarding drawings were those first little scribbly doodles in my sketchbook – they were completely imperfect and messy, all done in one sitting. They were throwaway scribbles, and they were only for me. I hadn't realised it at the time, but I had essentially completed Inktober 2018 in one sitting, before the month had even started. All the 'real' drawings were just the cherry on top.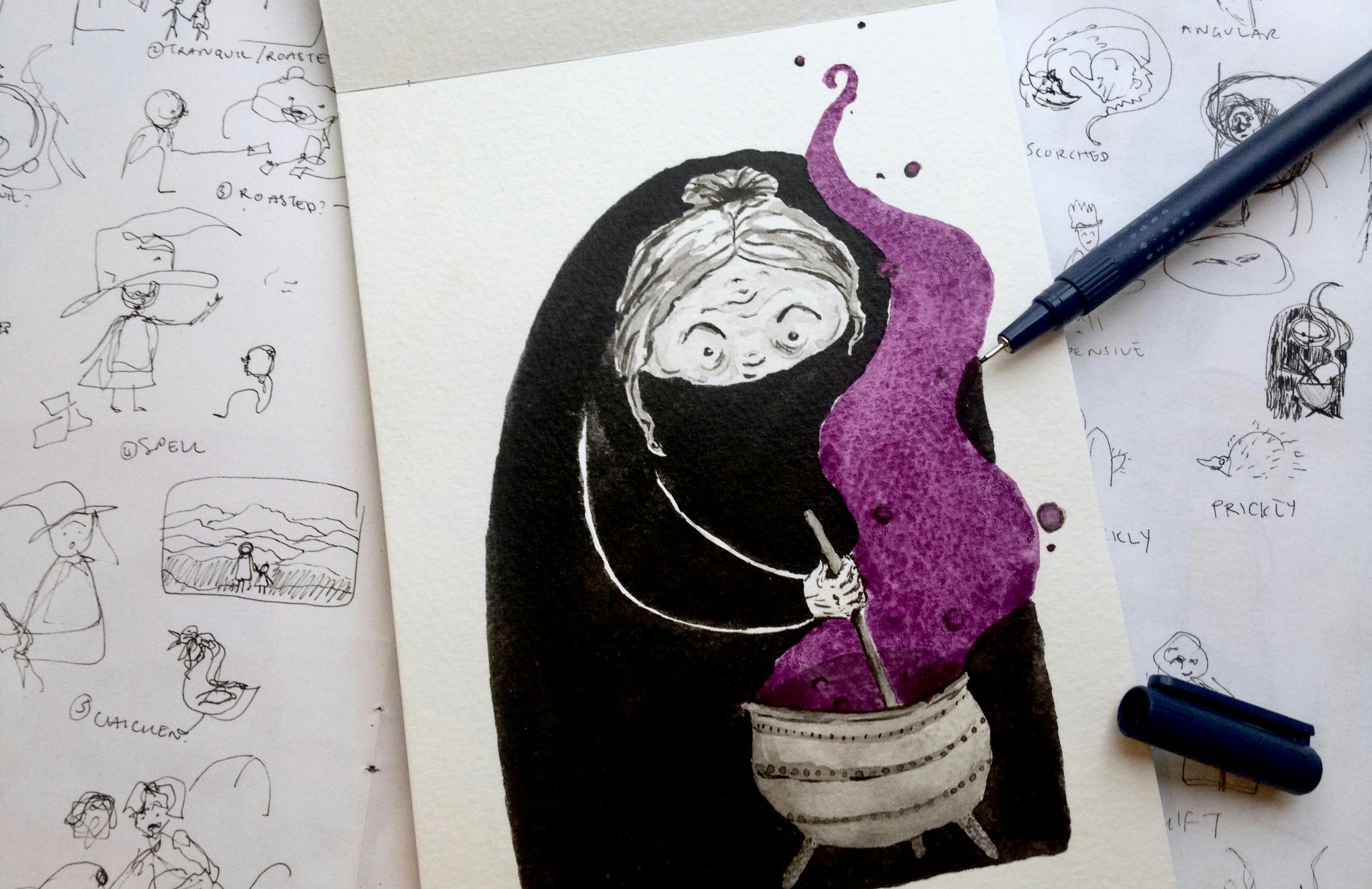 The biggest lesson that I have learned from Inktober is to make the whole experience as easy as possible for myself. Committing to a drawing challenge each year has taught me a whole lot more about what actually works for me, as well as what doesn't - both on a conceptual and practical level. It has also given me a new appreciation for my scanner, which has saved me from the purgatory of editing my poorly-lit photos of drawings in an attempt to make the white paper look white on screen.
I remember reading in a book called Art and Fear that the first step in the 'Operating Manual for Not Quitting' is the following: "Make friends with others who make art, and share your in-progress work with each other frequently". For me, this exactly pinpoints one of the greatest rewards of taking part in Inktober: sharing work. Although it can be rather terrifying at first, I've learned that it does get easier. For me, the feeling is not dissimilar to the tea break during a life drawing class - that pocket of time in between life drawing where artists step away from their work to mingle over cups of coffee. Speaking with someone or seeing their work can be the magic ingredient to unstick me when I get into an artistic funk - or perhaps inspire me to try a new direction in my work. Aside from their obvious differences, I have found Inktober to offer a digital version of this kind of community. A benefit of following the official Inktober prompts each day is getting to see how so many artists can have completely different responses to the same stimulus - I don't think that will ever stop being just a little bit magic.
To anyone who has taken part in this year's Inktober, I take my hat off to you. And to anyone who is thinking of jumping in for the final stretch of this year's Inktober (or indeed any consistent drawing habit) I wish you the very best of luck – keep going!
-
My Instagram: megan.snyders
My Website: megansnyders.com