Photography has become utterly ubiquitous - all but our most private moments are potentially recorded on a device, either our own camera phones and tablets, or somebody else's. Where life drawing previously provided a foundation to artistic training and an opportunity to record observations of another person on a page it now provides an additional role - it creates a focused, screen-free space where there is no pressure to photograph or be photographed. At Draw we've always had a no-photography policy, but we've recently clarified what what means, explained in this post.
The Draw Brighton Photography Policy
Nobody is permitted to use a camera whilst the model is posing.
This means you cannot use a camera as a visual aid (viewfinder etc), and you cannot take photos of your drawings whilst the model is posing. If you like to take step-by-step photos of your drawings and cannot wait until the tea break you will need to take them outside of the room. The comfort and safety of the model is our priority, and even holding your camera up to check social media can make a model feel on edge whilst posing, so please stay focused on your drawings whilst the model is in pose.
You are not permitted to take any photos of the model at Draw.
We do not allow photos of the model at all - including hands, feet, faces or clothes, either during pose or in the tea break. Even if the model is ok with it, we do not allow it, so please don't ask them.
You can take photos of your artwork during the tea break, or after class as long as the model isn't posing, or in shot.

You can take photos of the backdrop, set and room as long as the model is not posing, or in shot.

You can take photos of the tutor's notes and demonstrations as long as the model is not posing, or in shot.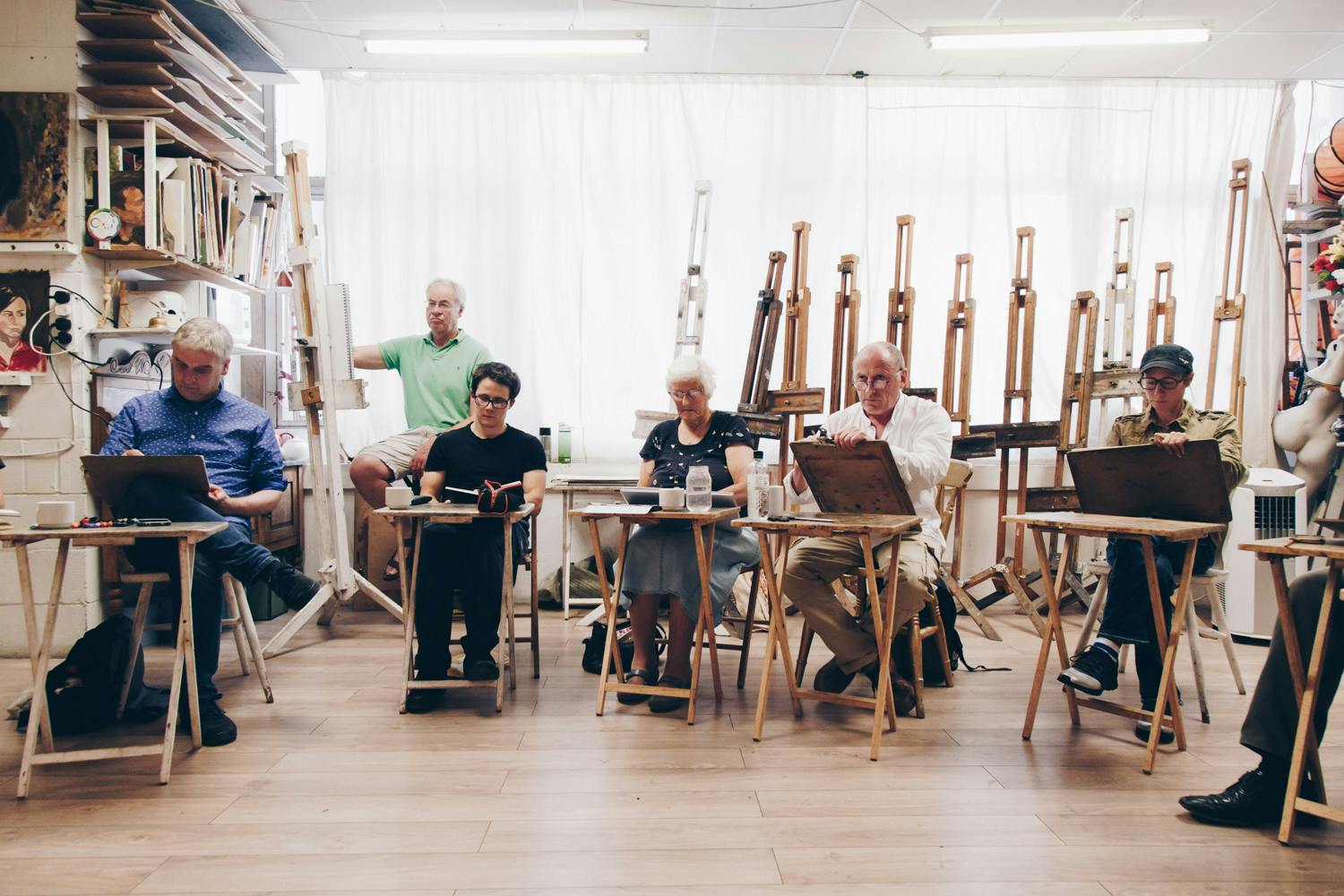 FAQ
I want to work from photographs at home, can I book a model?
Lots of our life models are happy to model for photographs and Draw can help put you in touch with them - we may also be able to help you find studio space to take photos in. If the model agrees, we recommend a starting rate of £10 for a single, useable photo or £50 an hour +travel +prep costs for a photo shoot of images. Some models may charge more and may have their own stipulations - putting together a simple model release form helps to clarifying how the images will be used in future. The model should always have the opportunity to veto photos at the end of shooting, also recognise that permission to use the photos to make artwork from is not the same as permission to share the photographs themselves.
I'm a life model, what do I say if somebody asks me for a photo?
At Draw, please always let the tutor know and they will field the request for you (and politely say no). At other life classes and portrait classes, it is worth checking the tutors policy to photographs when you are booked to make sure that it is in line with what you are happy with. You should never feel nervous to speak up if somebody has taken a photograph without permission, but if you do feel uncomfortable Brighton has a supportive community of life models who will help you - get in touch with Draw and we can speak to other tutors to advocate on your behalf.
People life model for varied reasons - some as full time professionals, some for personal experience and many as part of a wider creative practice. There is a clear distinction between the skills and mindset required when modelling for photography, modelling for photos-to-paint-from and life modelling. Life modelling is paid at a rate that presumes repeat work - the fleeting quality of poses underpin both the urgent nature of life drawing and the ongoing element of life modelling work. If you want to see that wonderful pose again, you have to book the model a second time. Once an artist has photographs to work from, they do not need to book the model again, which is why models should always be paid more if their image can be used as reference after the life class. Many artists and students mistakenly think the issue is nudity - whilst some models might be uncomfortable being photographed naked, it is the use of the image itself that undermines the model's ongoing work. It is also important to recognise that models may not want to be recognised in a photograph as a life model - we have life models who are vicars, doctors and teachers and although they are not secretive about their modelling, they have a right to model in privacy, without images of themselves in a dressing gown being shown on social media. In order to create an atmosphere where everybody can feel comfortable life modelling - it is important that we can create a space in which artists, models and tutors all feel entirely comfortable and at ease.
What about Draw promotional photos?
Some life classes use photos of classes-in-progress which show their models posing - this is almost always respectful and with the models permission. However, at Draw our tutors are bound by the same rules as students and will not take photos in classes - the photos from life classes that you see online are all from sessions organised especially to photograph where the model was paid an agreed photographic rate.
Can I share photos of my drawings?
We love seeing photos of the work made in life classes, and we really encourage everybody to share images online, as long as they are of drawings or of the studio alone. You can use the hastag #drawbrighton to share pictures with the community on Instagram and Twitter. It is ok to share a drawing on social media of a model, even if they are recognisable from it - that is part of the nature of life modelling.